I've been a member of this website for a while and haven't posted much because my Solara has been such a solid car. I love my Solara. I've got a 2000 Solara SLE V6 Black Sand Pearl. 112,000 miles. My oil light started to flash a while back and then it would stay on at idle and off when I hit the gas. So I recently had the oil changed at Valvoline. 3 or 4 days later I drive to work in the rain and I get out of the car and I noticed a rainbow colored trail that I had left in the parking lot. I looked under the car and I am dripping oil and I had been for a few days. I just didn't notice it when it was dry out. I take it back to valvoline and they tell me that the leak looks like it is coming from the rear main seal. They say I lost 3 quarts of oil since my oil change. I didn't want to cause any severe damage to my engine so I take it to the Mr. Tire across the street. Probably an expensive move but like I said, I didn't want to cause any severe damage. He shows me under the car where the leak is coming from.. now I am not mechanically inclined like most of you guys are so I barely remember what I saw but he says that oil had gotten in to my water pump and on to my timing belt and they needed to replace the valve cover gasket. I don't think it was even the rear main seal to begin with. I know the Valvoline guys aren't certified mechanics so this doesn't surprise me. The guys at Mr. Tire also say that my bearings in my right rear wheel are bad and that I'm lucky the wheel didn't fall off but later they say it was not my bearings, it was my Right Rear trailing arm. My car has had this horrible knocking sound in the trunk for years. I thought it was just my struts going bad or the bushings. After they fixed the trailing arm the knocking is gone. I thought if other Solara owners were having the same issue that the trailing arm could be the problem. It took $1920 to figure out where the noise was coming from but at least I got a bunch of the stuff replaced that is recommended anyways. I'm going over the list of what was fixed. Here's what it says.
OIl Filter
Belt Tensioner
Valve Cover GAsket
Oil Sending Unit
PCV
Plugs
Water Pump
Timing Belt
Valv Cooling System
2 Kelly Charger Tires
Just thought I would share my first major problem with my Solara. They are such nice cars. Most people think it is newer than it actually is. The interior is practically mint and the factory JBL stereo is awesome. I plan on keeping my Solara for a long long time.
Sol-Brotha
T-County, Ohio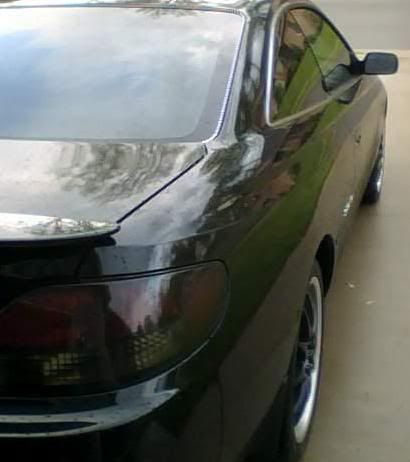 Just Licensed SolaraGuy
Posts: 20
Joined: Tue Apr 29, 2008 5:06 pm
Location: Dover, Ohio