Well any compound polish would work, just don't use lens cleaner they don't work, well not as well as compound polish does. You don't have to go get them super expensive one just a small bottle or something cheap, just has to be Compound Polishing. It basically a liquid sand paper mixed with polishing solution so it take off a thin layer of crap on the lens and polishes it too, unlike the lens cleaner that just clean and doesn't actually get deep down and lake a layer of dirt off, it just polishes.

To prevent it from happening again in the future you can use that wax that you had, after the compound to Seal in the compound and the lens itself.

Hope that helped, let me know how it turned out.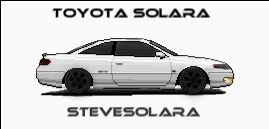 SolaraGuy Driver

Posts: 618
Joined: Thu Feb 03, 2011 2:52 pm