If you have a camry/solara with the JBL system, then your car has an external amp that is mounted behind the glovebox. Not sure if this applies to the gen2 solara or not. If you want to install an aftermarket CD player you are going to want to bypass that amp and use the new CD players onboard amp.
This is very easy to do and doesn't require any special tools.
First thing I always do is disconnect the battery.
Removing the old headunit. To remove the factory headunit you will need to take out the ashtray as well as the ciggarette lighter. Once you have the ashtray out stick your hand in the spot where the ashtray was and pull hard on that. That will release the bottom part of the trim. Once that is detached you will resume detaching the trim by pulling it from the bottom and working your way up. It's pretty easy and you shouldn't have a problem. If you have an automatic it might be easier to put the shifter in low gear(parking brake on too)
Once you have the trim removed from the dash disconnect the power wires for the cig. lighter and set trim aside.
There will be four bolts holding in the brackets that the headunit is mounted to. They are 10mm if I recall correctly. You can also use a large phillips screwdriver but a 10mm socket and rachet is easier.
Once you have those four bolts taken out the headunit will come out. Remove the brackets on the side of the headunit using a phillips screwdriver. You will reuse these brackets for the new CD player and Din pocket.
On the back of the factory headunit there wil be two harnesses going into it as well as the antenna wire. Disconnect all of these.
Fortunately Toyota has prewired another harness that makes it very easy to bypass the factory amp.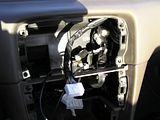 The two connector's in the top right corner of the picture will be used instead of the wiring connected to the original reciever.
Use a scosche or metra wiring harness like this one.
http://www.cardomain.com/item/SCOTA02B?vq_id=none
and
http://www.cardomain.com/shop/item.pl?sku=SOUIECHUK
Match up the correct wires from the Scosche harness to the new CD players wires. Reconnect the antenna wire. And test the CD player to make sure it turns on when the key is put on ACC.
Attach the original headunit brackets to the new CD player and bolt it back into place. You can mount it on the top part of the Double Din opening or the bottom.
Toyota sells a nice pocket with a door to accomodate the open space.
IIRC it cost's about 20-30 bucks at the dealer.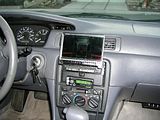 Good luck, let me know if you got ?'s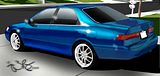 SolaraGuy Driver

Posts: 540
Joined: Thu Jun 26, 2003 10:26 pm
Location: so cal