In this tutorial i've used many pictures from previous tutorials teaching you how to install entry lights and independent foglights.
In order to have the auto foglights on/off when locking or unlocking, you MUST have the independent foglights DIY done.(Found below) The entry lights is a bonus.
First i'll start with the entry lights. Remove the plastic molding that runs along the sill of the driver's door. Only 3 clips underneath is holding it in place, so it's easy to yank out. This will reveal a 10mm socket that's holding in the plastic panel under the steering wheel. Remove all screws and bolts necessary to take the panel out. BTW... You might like to disconnect the battery just to insure that you won't blow a fuse or short circuit something which is unlikely.
This will include the hood lever too. There's 2 philips screw that holds the hood lever in place. remove the screws and it should come of easily.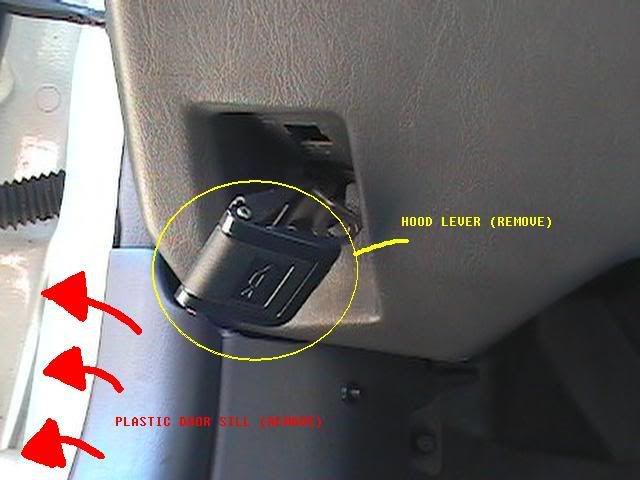 Now you want to take apart the hood lever so only the wire is left.
Use some force to pull the lower panel out which is only held by clips.
Once the panel is out of the way, you have to remove the steel plate.
This is held on by 10mm bolts. There's also a white plug at the bottom which you may unclip and make the disassembly more easily.
Now with some force again, and a little tug upwards, you may take the whole metal plate out.
Here comes the wiring part, find a RED WIRE WITH WHITE STRIPE in the white plug on the top right hand side of the fuses.
A flash light will be very handy here. Try to unplug it for easier access. Although unplugged, the cables are still in the way and its a pain in the ass to get to it, all i can say is TRY HARD.

This is the variable grounding wire. This wire becomes negative when the doors are opened. (somewhat like the dome light which comes on when you open a door)
DO NOT CUT THAT WIRE!!!! Strip off some insulation to expose the raw wire. I used an exacto knife to strip off the insulation little by little. BE VERY CAREFUL!!! If you cut the wire, you'll have a very hard time connecting it again.
After u have stripped off some insulation, splice into the exposed wire. We now have our variable grounding wire.
To complete our circuit, we need a constant 12V source. There are many constant 12volt wires under the steering wheel. I THINK I used a red wire with silver dots. A volt meter or a test light or your entry lights will come in handy to test. The previous tutorial says a white and silver wire is also a constant 12volt source, but i can't find it when i was doing it ... so... i used a red wire with silver dots. DO NOT use the 12volt wire from the cig lighter. That wire only becomes hot when you have your keys turned to ACC. Trust me, its not hard finding a 12V wire.
After splicing into the 12V wire, connect the positive ends of your entry lights to it. and the negative ends to the variable grounding wire. Your entry lights should light up. If you close all the doors, your entry lights should turn off. or dim off.
To add a switch so u can turn on your entry lights manually while inside the car, you need a 2 prong switch. Connect one of the prongs to a constant ground (any metal part of your car) and the other prong to the negative leads or the variable ground wire.
I drilled a hold in the coins tray to put my switch, you can put it anywhere you like!
You have completed the entry lights section!!!
Here comes the independent foglights:
Remove the cover by your left foot stomp. (a twist cap at the back and you should be able to yank it out)
Now locate a white plug holder with 2 black plugs; 1 large square and 1 smaller rectangle.
There is a philips head screw at the top of this white plug holder, unscrew it and pop the whole white plug holder out. Force is what you need or you might like to use a screw driver to pop it out.
Once its out, there's still a million wires wrapped around it. Unplug as many plugs you can to set it free. (Except the one behind the black small rectangle relay.) This is the Fog Light Relay [FLR]. This is what we need to modify. Make sure you remember where all the plugs go. You might like to use masking tape or a sharpy to label each plug you take off. I had a hard time putting it back together because i forgot which goes where. Now pull the white plug holder as close to you as possible. Turn it over and locate a red wire at the top. (Behind the FLR).
CUT THIS WIRE (Be sure to leave a couple inches or enough space at both ends of the cut wire). Strip the insulation of both ends of the wire. The wire we will need is the one connected to the FLR. The other end is useless so u can wrap it up with electrical tape or cover it up with butt connectors so it wont ground out or blow anything. Now back to the red wire connected to the FLR.... attach another wire to it to extend it. This wire is the positive wire and will need to be spliced into a constant 12V wire. This shouldn't be a problem b/c you should have already found a constant 12V wire from the last section in the entry lights. If u choose not to do the entry lights, then its okay. You can find another constant 12V wire. As i said before, its easy. I used a red wire with silver dots located by the door sill where we detached the molding. Using an exacto knife, carefully strip off the insulation of the wire that you think is a constant 12V and expose the raw wire. Use a test light, voltmeter or what ever electrical appliance that requires 12V to function and test whether it is or not. The negative lead goes to any metal part of your car, which is a grounding point. The positive obviously goes to the wire that you think is 12V
now connect your battery and see if your appliance work or not?
After a couple tries or even 1 try, i believe you have found your 12V source.
Now go back and disconnect the battery.
Look at the bunch of wires that are under the steering column. It might be wrapped in black plastic, but you'll have to slit it open. Find a THIN RED WITH BLUE STRIPE wire... There are 2 red with blue stripe wires there, so i suggest you find both red with blue stripe wires and compare their thickness. We need to splice into the THIN RED WITH BLUE STRIPE WIRE and connect it to the VARIABLE GROUNDING WIRE we discovered in the entry lights section.
You can connect it by adding the thin red with blue stripe wire to the switch which you have added previously. Be sure not to connect it to the constant grounding prong.
Now just tuck in all your wires and assemble all the panels.
YOU ARE NOW DONE!!!!!!
*** BE sure to wrap all your connections with lots and lots of electrical tape !!!
Now, whenever you press the lock/unlock button on your remote, your lights flash and your foglight comes on. *******REMEMBER to keep your fog light switch to on (from the side of the steering wheel where you have your turn signals) Your fog lights will now shut off automatically a few seconds after you press the lock/unlock button. ***Another reminder is that you also have a switch which determines the grounding point; constant or variable? Always have it on constant when you drive. If you leave your car, switch it to variable.
HAVE FUN, ENJOY AND FEEL FREE TO PM ME FOR HELP!!!
RESULTS:
http://www.youtube.com/watch?v=tB-wp2oo6KA
http://www.youtube.com/watch?v=oHkgocNSZkU
Last edited by
nemoxfishy
on Thu Sep 27, 2007 8:16 am, edited 2 times in total.
SolaraGuy Driver

Posts: 309
Joined: Fri Dec 01, 2006 6:51 am
Location: BC, Canada