Greetings. Ever had it rain on your Gen 1 Solara, then the interior wreaked of wet socks for two days?
Ever take it to the dealer and they fixed it in 10 minutes and did not charge you? Here is what they did.
1) Go to Wal-Mart or your favorite local grocery store.
2) Buy a can of mildew removing spray, such as Lysol. It must be Mildew removing, and can have the fragrance of your choice, but something not very strong.
3) Start your car, and put your A/C on high, with the vent setting on OUTSIDE air. This will not work on "recirculate".
4) With the car running, spray the Lysol on the Air Conditioning intake, which is the grid just behind the hood, just in front of the windshield. Spray for about 5 seconds across the whole grid, and then let it run for 3-5 minutes.
5) The spray has been sucked in and has in effect treated the intake, and should be killing off the mildew smell.
6) Repeat if necessary, or adjust how much you sprayed based on how well, or not well it worked.
7) Throw the Lysol in the trunk for next time.
Hope this is helpful for everybody with this issue.
I would have included pictures, but I do not have my Gen 1 any more.

el Stevo de la desierto
2004 Red Solara Convertible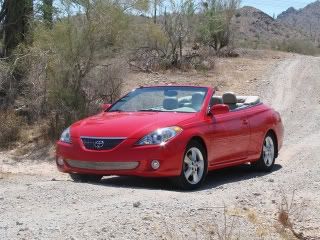 Regular SolaraGuy Member

Posts: 66
Joined: Mon May 05, 2008 1:42 pm
Location: Phoenix, Az