Hey dudes, some of you may know that I've had build plans in the works for awhile now. I haven't really talked much about it on any forums, keeping mostly to the people working on the build and a few friends. Well finally, after tons of research and planning and buying parts, it looks like the swap is almost ready to begin and I think the time has come to share the build with you all. It's really exciting to me to see all the amazing builds going on recently. I love seeing the direction everyone chooses to go with their own build and all the differences and similarities in ways to approach it. I can't wait to see how all these builds end up. I've been working with Gabe extensively for about a year to plan and develop this project and he'll also be doing the swap and build. Gabe's been building a bunch of custom parts for me, including the radiator kit, turbo kit, and over all has been instrumental in helping me plan this one out. For anyone who follows Gabe's business Facebook page, you've probably seen some photos of some of the parts he's making. There are other SG and TN members that deserve credit, like GregTRD, Adam G., Bob, and Rob, who are always wonderful people to talk to and bounce ideas off of or source parts from. I hope you guys will enjoy what I've got planned and provide some comments and suggestions!
Goal
A safe, reliable and complete 400whp (600whp capable) Twincharged 3.1L v6 Camry street monster.
Background
Here's a little back story on where my car stands now. I got my 2000 Camry v6 auto-trans back in 2006, and have been modifying it ever since. Everything I know about modifying cars has been from learning as I go on my Camry. Last summer (2011) a couple TN guys and myself swapped in a 5 speed trans. The car is currently TRD supercharged at 5.5psi with lots of goodies. Some of it's current mods are methanol injection, NST crank pulley, poly trans mount, 305cc injectors, walbro 255 fuel pump, NGK plugs and wires,SAFC2 for fuel tuning, AEM wideband AFR gauge, OBX headers, y-pipe, and muffler, JPP cat-back, Jim's torque rod, Optima yellow top battery, carbon fiber hood, TRD rear struts/springs, K-Sport front coilovers, 17" wheels, drilled and slotted OEM rotors, TRD rear sway bar, TRD front strut tower bar, fidanza flywheel, TWM short-shifter, Jim's Fuel mod, um.. I think that covers most of it.
Car dyno'd at 244whp on a street tune. I definitely feel that with a proper tune and my exhaust not leaking, I could have dyno'd closer to 255whp. Oh, engine has well over 200,000 miles on it. Not sure exactly how much is on it because I replaced the gauge cluster and I have yet to do the math. The engine is also leaking oil and possibly coolant like a mo-fo, and blow-by is considerable.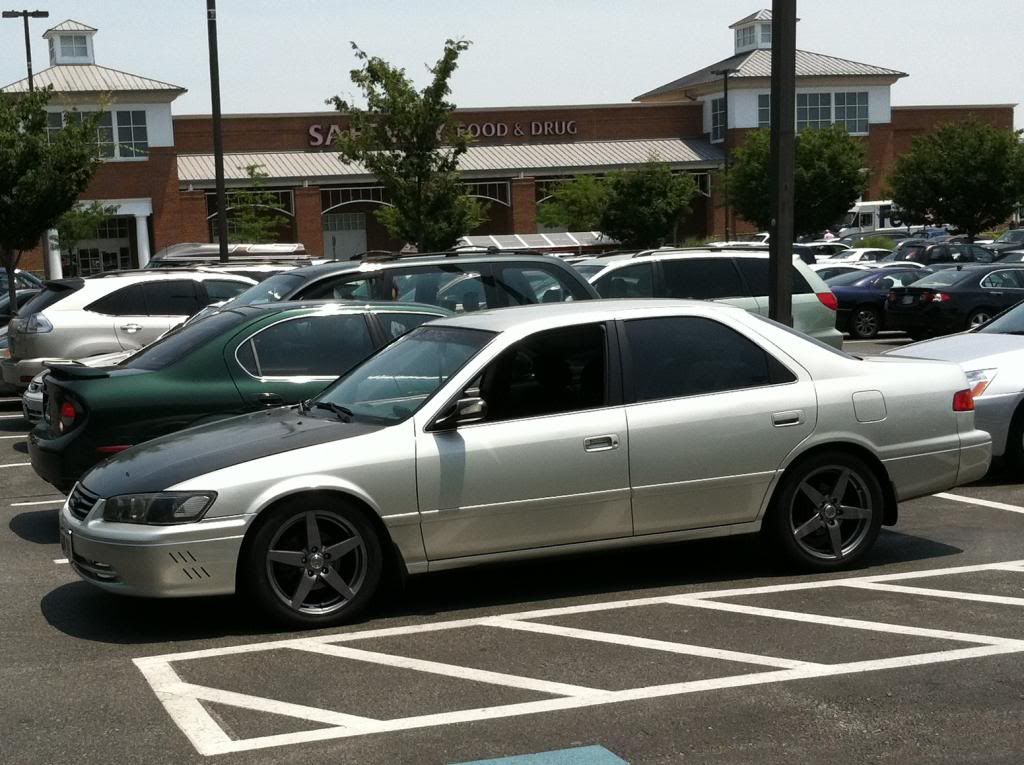 The Engine
I had the wonderful opportunity to buy Ryan's (Akora12) 3.1L 1MZ a while back and jumped on it. Many of you probably remember this engine, it has a lot of history on the forums. I don't remember the full history, except that Akora installed this engine into his Solara, calling it the "Black Ninja", and then blew up his transmission and decided to part out his car (silly guy). Before that it was in a few different hands, and was once in Gabe (TRD4Life)'s infamous "Red Knight" Solara. Interestingly, it has come full-circle back to Gabe and is now sitting with him up in Maine waiting for my car. The block has been built pretty extensively but the heads have not really been touched except to rebuild them back to OEM spec. All engine work was done before I bought it, however I plan to eventually take the heads off and have them customized. Custom cams, port and polish, custom valves, lifters, etc
Engine specs:
-Block Overbored 0.5mm (0.020")
-Arias Custom-Forged Pistons (
9.0:1
Compression Ratio)
-Eagle 22R Custom-Machined Connecting Rods
-Balanced, Magnafluxed and Micropolished Crankshaft
-ARP Head Studs
-ARP Main Studs
-Toyota Avalon VVT-i MLS Head Gaskets
-King Bearings
-Powdercoated Satin-Black Valve Covers
-Powdercoated Satin-Black Block
Forced Induction
So, what to do with a block that should handle 600whp? Twincharge it! I already have a TRD blower, but as we all know, the blower is very boost-limited. Gabe got his hands on an unfinished 1MZ turbo kit, so we decided to finish it and slap it on my car. It comes with a
GT35R turbo
which we plan to boost starting at 10psi. The boost will feed into a water intercooler before reaching the supercharger. The point of having the supercharger is to eliminate turbo lag and provide power on the low end, as well as some additional boost across the RPM band. Besides, how cool is it to say I have both a turbo and an s/c!? For the s/c we'll be using a 6psi Underdog pulley, however since the engine has lowered compression it will be making less boost, maybe around 5psi? I'm not sure exactly, but total boost should be around 15psi. I don't want to spin the TRD s/c too fast and heat soak the thing. To reduce heat soak, I'm planning to inject a small shot of methanol/water mixture before the throttle body. By small shot I mean around 225-425ml. I know I should go for more methanol, but I reaaally don't want to because I hate having to fill that thing up every time I get speed happy on the highway. If I can program multiple tunes, one for with methanol and one for no methanol, then I'd be okay with a bigger shot of meth, maybe 625-1000ml.
Due to the unusual turbo location, Gabe has had to develop a custom radiator set up. Here's a photo of my future radiator being test fitted.
Fuel + Air + Fire = Boom!
For now, we're going to stick with the
Walbro 255
pump. We aren't 100% confident that the 255lph pump will be sufficient, but we're going to try it out. If it's not, we may have to go with a bigger external fuel pump. Also switching to the toyota
return-style fuel rails
and upgrading the size of the fuel line.
Injectors are 525cc
. Adding in a
plasma booster
,
Magnacore ignition wires
, and colder spark plugs (not sure which to go with yet). Also including a
Mallory fuel pressure regulator
. For the intake, we'll be installing ported and polished
lower intake manifold
and
throttle body
, and I'm weighing my options as far as porting the TRD supercharger as well. For management, we decided on the
Greddy e-Manage Ultimate
. I've heard some people recommend it, others not recommend it, but overall the reviews on using this device on our cars gives me confidence about it. I've had a patch harness made and Tweak'd Performance wired in the Greddy pigtails so I don't have to worry about botching it myself.
Drivetrain
Obviously, traction is going to be a big issue, so I found an
MR2 Turbo transmission
, complete with a
factory LSD
. Besides that, I need to junk the 5 speed I have in my car now. It grinds gears like a mo-fo! Due to it being an LSD transmission, we've had to find
mr2 axles
and also had some
custom axle
work done. I was considering building the CV joints, but decided that until I go with sticker/wider tires, I should be fine for now. The way I figure it, I'll break the tires loose before I break an axle. One of the few parts I haven't bought yet is a clutch. I've had my eye on the
ACT Xtreme 4-puck, sprung clutch
. I'm open to suggestions on this one guys. I want something reliable that won't kill my left foot and that I can drive with on the street! I know, it's a tall order...
Suspension, Brakes, and Handling
For now I'll be sticking with the K-Sport Kontrol Pro
front coilovers
and rear
TRD strut/springs
. I already have a front
TRD strut bar
, and rear
TRD anti-sway bar
. I'll be adding in Energy Suspension front
control arm bushings
, SuperPro
rack and pinion bushings
, and a Whiteline
front anti-sway bar
. For brakes, I'll be upgrading to the twin-piston bolt on set up in front, with ES300 calipers and rotors in the rear. Steel-braided brake lines will be going on as well.
Concerns
Supercharger Heat Soak
: I'm worried that with a 6psi pulley and only a small shot of methanol, that I will get heat soak. I want this build to be reliable in all weather temperatures!
Supercharger Restriction
: We all know the supercharger is pretty small, I'm definitely worried about sufficient airflow through the supercharger from the turbo.
Head Restriction
: The heads are stock, so I'm not too confident about how this will affect overall performance and health of the engine. The lower intake manifold and throttle body will be ported and polished to help with airflow.
Traction
: I'm looking into what I can do to limit boost in low gears. I don't want this car to be undriveable in first and second gears.
Engine Cooling System
: Gabe assures me that the radiator will be more than big enough to keep the engine cool, but I can't help but worry.
Turbo intercooler
: I'm not very familiar with water intercoolers, and worry about the water not cooling down enough before going back to the intercooler.
Fuel Pump
The walbro 255 may not be sufficient.
Cams
: I've recently read an article on TN about how stock cams are bad for high boost applications due to valve overlap. The argument was that with the considerable valve overlap that our stock cams have, boost will be lost into the exhaust before the cylinder is compressed, resulting in lowered boost and an inaccurate AFR reading. I definitely need to get some more input on this subject.
Due to my concerns about the TRD supercharger, I've actually considered selling it and going with Gabe's M90 kit instead. Or perhaps going single turbo. The thing is, I reeeallly like having the TRD blower! I love saying I have the TRD blower. It looks cool, it's from TRD, it's uncommon. AND, it fits and looks great under the TRD strut tower bar. Simply put, I would feel like my build was missing something without it!
Well, that's everything I can think of! I'm sure I'm forgetting some details. I should be shipping my car up to Gabe in Maine within a few weeks so he can get started on it! I'll keep you guys updated with the progress.

14.11s 101mph quarter mile. 5 Speed v6 Supercharged @ 5.5psi
SolaraGuy Driver

Posts: 471
Joined: Mon Dec 07, 2009 9:37 pm
Location: Baltimore