$1025 NEW KAAZ LSD 1.5 WAY
$60 2-trd revo center lug nut covers
$170 1-auto trd ebc
$55 1-2.75" new AEM bypass valve for cold air intake
$480 1-new complete set (4) of Trd struts
$100 1-new V6 stock clutch
$100 1-resurfaced flywheel.
$100 2- sets of new rear trd springs
$650 rotora big brake kit this is for a xb but will fit a solara pm for details
$80 2-urd 7psi pulleys
$60 1-gen4 camry dual gauge pod
Lots of stock parts
I'll update later with pictures and more parts that I
have.
Last edited by
Gregtrd
on Sat Jul 07, 2012 9:14 pm, edited 5 times in total.
The Fastest Camry in Socal
366whp / 427wtq @10.5psi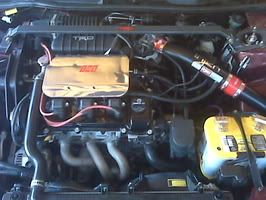 SolaraGuy Street Racer

Posts: 1115
Joined: Thu Jul 28, 2005 2:14 am
Location: Fontana