*** Toyota Solara part out ***

OK finally got more free time. I still have my Solara and now its finally time to part it out. Everything is for sale, otherwise the car is getting junked. Hmu on prices and what you want. I'll will update asap when something sells. Pm for prices and pics.

Will ship, buyer pays shipping.

1999 Toyota Solara SE v6 auto.

Parts: (if not listed just ask)
OEM headlights with black housing
Fog lights
Rear taillights ( slightly tinted )
Tinted corner lights
Kaminari lip kit. ( authentic TRD rear center piece)
OEM 16" 5 spoke wheels (5 wheels total, tires are junk.)
PowerStop Slotted and drilled front and rear rotors.
All body panels are good condition, no dents or scratches. ( except FR fender has no paint, aftermarket fender. Front bumper is plastic dipped white.)
Oem trunk and trunk spoiler with third brake light
Beige cloth interior. (Everything is good condition.)
Everything in the interior is there, even rear cup holders!!
Carbon fiber vinyl wrapped interior wood trim pieces and center console and shift knob plastic housing pieces.
OEM Toyota Solara tan floor mats
OEM Toyota Solara trunk mats
Short ram intake
Obx headers
Full megan racing cat back exhaust and muffler.
OEM catalytic converter y pipe ( the one after the header that connects to flexpipe)
Throttle body spacer
OEM strut springs
Ksport coilovers

Again if anyone needs anything that's not listed just ask!!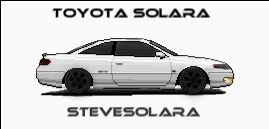 SolaraGuy Driver

Posts: 618
Joined: Thu Feb 03, 2011 2:52 pm