hey guys, I recently had this problem for about 2 days now, I've notice when i drive on the highway about 65-80mph it seems like the transmission is not going into gear and when i kept the rpm around 2,000 just cruising, its ok but when i start to speed up more it feels like it "laggy" or not shifting.
I've also been noticing my car is "laggy" a lot, especially when i hit the throttle from dead stop, it sounds like i am revving the crap out of it and not going as fast, when i first got the car. Maybe i have a leak somewhere? Anyone got any clue?
I have a 99' Solara SE v6 auto, everything is stock, except i have a short ram intake.
Thanks in advance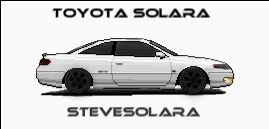 SolaraGuy Driver

Posts: 618
Joined: Thu Feb 03, 2011 2:52 pm