After searching on here and not finding a solution to disable them, I found a page on the net with a tutorial. I tried unplugging the grey plug under the hood and several other things that didn't work. So, after giving this a try, no more DRL! This tutoial shows how to remove the ground to the main DRL harness to totally disable them. BTW, the wire I removed was red with a blue stripe and silver bands. There's more than one, but the other one is towards the middle, so you'll be able to figure it out.

http://www.legacytuning.com/drl/DRLdisable.htm
*edit
This site is down, here's another:
http://www.lightsout.org/disable.html
With my new HID's, I don't want to take any chances ruining them by giving them less power with the DRL. Next, I'll like to do the independent fogs.
Has anyone found a way to be able to use the highs without the lows going off???
Last edited by
Astro
on Wed Mar 14, 2007 9:45 am, edited 1 time in total.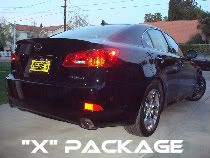 Lexus lip kit, LED tails, F-Sport Intake, HKS hi-power exhaust, TEIN S-tech springs
SolaraGuy Professional Racer

Posts: 4553
Joined: Wed May 14, 2003 11:33 pm
Location: Sherman Oaks, CA